METALLICA's KIRK HAMMETT "GUNS N' ROSES Has 'Turned Into A Nostalgia Act, It's Sad"
James Hetfield didn't have the highest of hopes.
Sprawled on a battered leather sofa in a backstage production office, Metallica's frontman was preparing to head out before an audience of 20,000 or so at the Shoreline Amphitheatre, not far from the heavy-metal band's headquarters in Northern California's Marin County.
The size of the crowd was no cause for alarm. Over the 3½ decades since he formed Metallica with drummer Lars Ulrich, Hetfield and his bandmates have played more arenas and stadiums than they can count. In 2014, Billboard put the group on its list of the 25 highest-grossing live acts of the last 25 years, an accomplishment driven in part by the runaway success of the group's self-titled 1991 work known as the "Black Album." (Current U.S. sales: 16 million copies.)
But a typical Metallica show involves volume — lots of it. And last month, as part of Neil Young's annual all-star concert benefiting the Bridge School, the band was set to play acoustic on a bill with the likes of Willie Nelson and Norah Jones.
"It's hard, man — there's no power to propel me," Hetfield said shortly before Metallica went onstage. "When you're playing powerful music, it moves you. Acoustic is the opposite of power; it feels kind of lame. I'd rather plug in and just let loose.
"But it's a good challenge," he added with a laugh. "And we like being challenged."
This month, Metallica — which also includes guitarist Kirk Hammett and bassist Robert Trujillo — is putting itself to the test again with the release of "Hardwired… to Self-Destruct," the band's 10th studio album since it debuted in 1983 with the thrash-metal classic "Kill 'Em All."
Due Nov. 18 on Metallica's own label, Blackened Recordings, the new record follows 2008's well received "Death Magnetic," which repaired damage the band did to its reputation in the early '00s — first with "St. Anger," an album that offended longtime fans with its lack of guitar solos, then with "Some Kind of Monster," a documentary that captured the group's childish infighting.
But where "Death Magnetic" proved that Metallica could tap into the primal energy of its influential early work, "Hardwired… to Self-Destruct" seeks to position the band toward the future at a moment when many of its idols and peers are flaming out by choice or circumstance.
In the last year, Van Halen played what might have been its final gig with singer David Lee Roth; Motörhead's Lemmy Kilmister died from cancer at age 70; and the ailing Brian Johnson quit (or perhaps was fired from) AC/DC. Black Sabbath is nearing the end of what it's calling its farewell tour.
And though a reunited Guns N' Roses made millions of dollars visiting stadiums over the summer, the flamboyant hard-rock band that famously toured with Metallica in 1992 performed no new material in its recent shows, sticking exclusively to oldies.
"Unfortunately, they've turned into somewhat of a nostalgia act, which to me is kind of sad," Hammett said.
In contrast, here's Metallica — all four members are in their early 50s — with a fresh batch of blistering, densely composed songs that take up modern themes like global warming, artificial intelligence and the illusory nature of Internet celebrity.
"I don't want to think we're trying to stay young by writing new stuff, but it makes us feel relevant," said Hetfield. "It makes us feel like we're still progressing."
Which isn't to say they refuse to look back. For "Death Magnetic," the band's producer, Rick Rubin, encouraged the musicians to relax their "perverse fear of repetition," as Ulrich put it, and revisit the headspace they were in when they made "Master of Puppets," the benchmark 1986 album recently selected for inclusion on the Library of Congress' National Recording Registry.
This time, working with Rubin's trusted engineer, Greg Fidelman, they thought about "the simplicity and aggression of 'Kill 'Em All,'" according to Hammett.
Ulrich said that, to some degree, those references to the past are inevitable for a band that's been around as long as Metallica.
"Any piece of carpet you lift up, you find an anniversary," the drummer said — and, indeed, while Metallica was working on "Hardwired… to Self-Destruct," the group was also assembling deluxe reissues of its earlier albums, which Metallica now controls following the expiration in 2012 of its lengthy deal with Warner Music Group. (The band still relies on an arm of the major label to distribute Blackened titles.)
But "Hardwired" doesn't sound weighed down by history; it's leaner and more immediate than "Death Magnetic."
"At some point, a few of the songs were getting a little long-winded," Ulrich said. "So we tightened the reins a little bit."
The first new studio album Metallica has released through Blackened, "Hardwired" reflects the band's increased control over its business too.
"We've always considered ourselves to be outsiders," said Ulrich, his round face fuzzy with gray stubble. "We never wanted to be dependent on anybody for anything — or to owe anything to anyone."
Yet labels held the power when Metallica started out and were needed to fund expensive recording sessions and marketing campaigns.
Now things are different: With traditional music sales having withered (and streaming subscriptions not yet making up the loss), record companies "want you to pay for all that stuff," Hetfield said, scoffing. "They want you to chip in your merch. Doesn't make sense."
Cliff Burnstein, Metallica's longtime manager who helps run Blackened, said Metallica — which according to Pollstar grossed around $200 million on tour behind "Death Magnetic" — has the resources it needs to get a high-profile album into the marketplace.
"We can devote more time to strategy than any label could or would," Burnstein said.
And strategize they do: As much as Ulrich is reveling in Metallica's freedom, the drummer admitted he's no longer sure what the traditional metrics of commercial success mean — especially for a rock act in a mainstream environment dominated by pop.
"There's no right or wrong way to do anything anymore," Ulrich added. "It's like the Wild West now, and that's exciting."
To adapt, the band is employing all manner of tactics to build awareness for the new album, from doing an old-school stadium tour of Latin America to "making sure we're on all the appropriate playlists" on Spotify, as Burnstein said. (Metallica expects to tour the U.S. in 2017.)
There have been larks too, like "Through the Never," an arty 3-D concert film that bombed at the box office in 2013. Yet Hetfield insisted the project was worth the investment.
"We wanted to do it," he said. "And if it makes its money back one day, that's great."
Metallica's happy interest in gamesmanship may seem out of sync with its gritty, straight-from-the-gut image. In fact, the band was paying close attention at the very beginning, when it moved from Los Angeles (where Ulrich and Hetfield met) to San Francisco in order to avoid being associated with the flashy hair-metal groups that ruled Hollywood in the early to mid-'80s.
And careful planning is what will allow Metallica to keep functioning as its members get older, they say. On the road, the band plays shows in two-week increments rather than staying out for months, so people can get home to see their families (and prevent the pressure-cooker fisticuffs witnessed in "Some Kind of Monster").
"The best thing about Metallica is that we all four have kids who are more or less the same age, spread from 8 to 18 or something," Ulrich said, evaluating his band in a way no one outside it likely would. "We're all in the same boat. It's not like two of us are hardcore dads and two are bachelors out there lighting the candle at both ends till 3 in the morning."
Short bursts also help protect each man's body from the toll of Metallica's intensely physical live show — the fast-and-loud version the group plays when it's not going acoustic.
"We're not 30 anymore," Hetfield said. "We all have needs out there — shoulders, throats, backs. It's about touring age-appropriately."
As the singer spoke, a small television monitor in a corner of the office showed Nelson on the Shoreline stage, strumming his beat-up guitar and cheerfully mumbling the words to "Mammas Don't Let Your Babies Grow Up to Be Cowboys."
"I definitely admire Willie, that he's still out rocking, having fun and playing," Hetfield said, taking a minute to appreciate the 83-year-old country star.
"I mean, God, if you love what you do, why stop doing it?"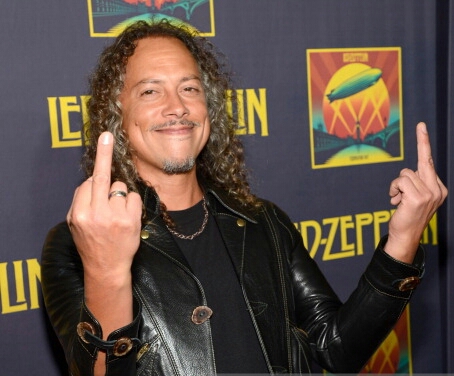 L.A. Times