Leatherface Star Andrew Bryniarski Slams Cannibal Corpse Guitarist Blames issues on Meth Addictions
Even the guy who scored as sweet a role as Leatherface in "The Texas Chainsaw Massacre" has roommates — ahh, the actor's life — and one of 'em's accusing him of getting violent.
Andrew Bryniarski played the masked mass murderer in the 2003 version of 'Chainsaw' … alongside Jessica Biel. According to docs, Andrew's currently residing in L.A. with 3 roommates, and in the days leading up to Halloween an argument broke out over the house rules and rent.
Marcus Silver claims Andrew "sucker punched" him during the Oct. 23 confrontation … putting him down on the ground with a split lip. He says Leatherface bolted from their home the next day but left some threatening voicemails and text messages.
According to the request for a restraining order — filed by Marcus — one of Andrew's texts sounds like an outtake from 'Chainsaw.' He allegedly wrote, "Before you open yr mouth again and say dumb s**t to me or about me … remember from here on. Lessons and repercussions in the form of pain and the loss of basic life functions will come find you swiftly and justly w no delay or restraint no regret. I'm not the one to f**k with."
If that's not scary enough … Marcus claims there was another text that simply read, "Fuck w me and I'll shatter the illusions along w yr facial bones." Method acting at its finest?
According to the docs, Andrew — who also famously played Lattimer in "The Program" — returned with police on Oct. 29, attempting to move back in, but his alleged texts had scared his roommates enough that they changed the locks.
Marcus says they're expecting Andrew's return any day now, which is why he filed for, and was granted, a restraining order. The actor now has to stay 100 yards away from Marcus and the other 2 roommates.
Andrew's painting a very different version of what went down.
A rep for the actor tells TMZ … Andrew claims he never hit anyone and says he pushed his roommate in self-defense after the man came after him in a drunken rage.
Andrew's team also claims he did not know about the restraining order when he returned to the apartment, and he has not been served with the paperwork.
This is not the first time Andrew Bryniarski went public with offensive rants
When CANNIBAL CORPSE guitarist Patrick "Pat" O'Brien was arrested on charges of aggravated assault on a law enforcement officer and burglary of an occupied dwelling with assault. Deputies say he burglarized a house and charged at a deputy with a knife. A fan recently posted his experience with the guitarist on Social Media Which admittedly got a response from Leatherface star Andrew Bryniarski Who then went on to slam others posting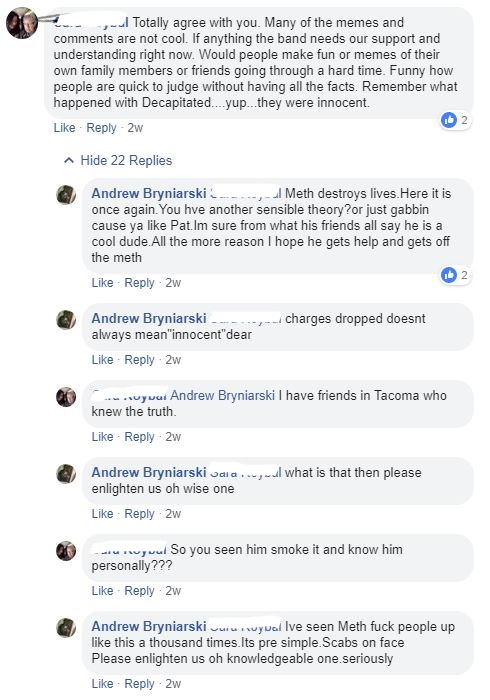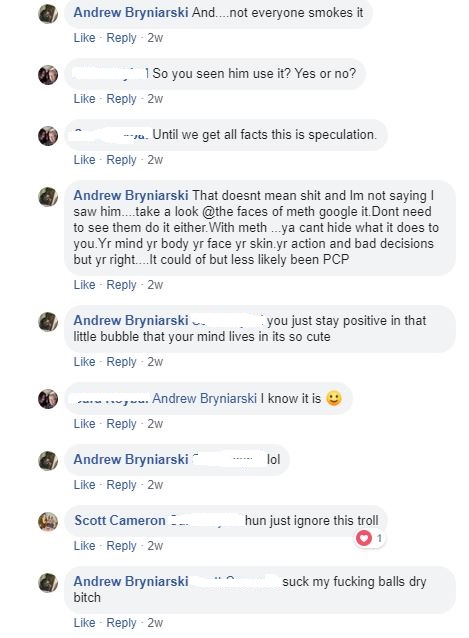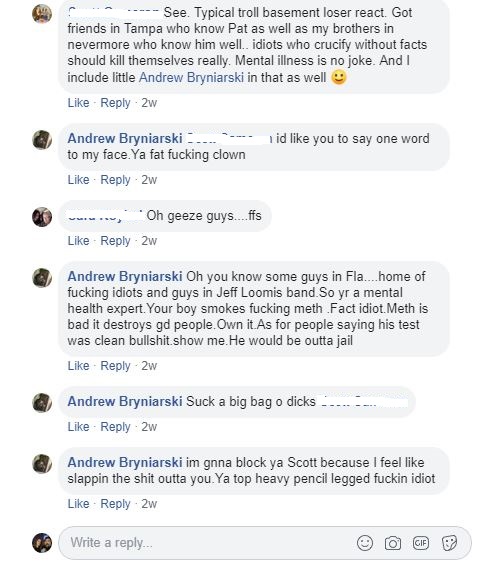 Newly released court documents show that CANNIBAL CORPSE guitarist Patrick "Pat" O'Brien made strange phone calls to his parents the day of his arrest, warning about "the rapture" and telling them that "aliens have landed."O'Brien was arrested on December 10 on charges of aggravated assault on a law enforcement officer and burglary of an occupied dwelling with assault. Deputies say he burglarized a house and charged at a deputy with a knife.O'Brien allegedly broke into a Northdale, Florida home on December 10 and shouted that "the rapture is coming" before pushing a woman to the ground. He ran toward a responding deputy with a knife and was subdued with a stun gun.Less than half a mile from where O'Brien was arrested, a fire broke out at the house he was renting, sending flames billowing into the night sky from the roof.

According to the Tampa Bay Times, fire marshals found a large cache of weapon, locked safes and potential explosive devices inside O'Brien's home. The stash included about 50 shotguns — including one with a barrel illegaly sawed off to about an inch past the stock — 10 semiautomatic rifles including a couple of AK-47 variants, two Uzi-style rifles and 20 handguns. Also found at the house were two flame throwers as well as thousands of rounds of ammunition — stored in boxes, military-style metal cans and even ammunition belts — several other weapons and weapons parts and three skulls.

The day after the fire, a neighbor told News Channel 8 they believed O'Brien kept some sort of flamethrower at the house and practiced with it.

The owner of the home where O'Brien was arrested wouldn't go on camera but told ABC Action News he thought the guitarist was hallucinating when he spoke to him and claimed "someone was after him." The homeowner added O'Brien seemed scared and at one point even hid in his closet.

At a first appearance hearing on December 11, a Hillsborough County judge told the 53-year-old musician, clad in an anti-suicide vest with his hands and ankles chained together, that he would first have to pass a drug test before he would be allowed to post bail and leave jail.

O'Brien was released from Hillsborough County jail on Friday, December 14, after posting a $50,000 surety bond.

CANNIBAL CORPSE announced last week that it would be part of the next North American leg of SLAYER's farewell tour.