Video Premiere: Pardon The Scars – "Caged Inside" And Interview with The Band
Sofa King Cool and Pardon The Scars have teamed up to premiere the video for their next single "Caged Inside"
"Caged Inside is a song about fighting yourself to determine who you're going to be today. The battle of your inner child and your innermost demons, the two wolves inside of you. Sometimes anger and frustration go unchecked, but the wolf that wins is the one you feed." – James Tangman
Sofa King Cool caught up with Pardon The Scars and we discussed the new single "Caged Inside", writing music and releasing it during a pandemic, how being a band that is starting out has its advantages during these times, upcoming music and what is next for the band
Sofa King Cool was able to catch up with Pardon The Scars and discuss the new single
Tell us about "Caged Inside" what made you come up with the idea for the song?
"The song was originally slated to have a guest vocalist but it ended up not working out, schedule-wise. The idea of the two sides of yourself being at war started with a second singer, one to represent each side. We ended up rewriting to some extent afterward to align the idea into a single point of view."
Does the song have any personal meaning to you or was it something from an observation you wanted to get across to your fans?
"We think everyone can identify with the topic at some point in time or another…or constantly in this song's case. It isn't an uncommon topic…the Dr. Jekyll & Mr. Hyde thing, but it was written from my (James) point of view, in what I had been dealing with in my life. After leaving the military and being thrust back into civilian life, things were upside down for several years. I felt angry, and unable to figure out why let alone have a good way to express it. I have since been able to calm the monster in healthy ways although the pandemic and the state of live shows has made it a little restless, to say the least."
What approach do you to take to songwriting and how was this track handled?
"We start with musical ideas and ultimately write the entire song before lyrics. Lyrics and vocal melodies float around while writing the instrumentals and we iron those out over the semi-finished song. Sections of a song may actually change a little or completely at this point depending on where the vocals take the song. Nothing is set in stone. We are all very creative people so it's not out of the ordinary for one of us to stop in the middle of rehearsing a song we have been playing for years and go: "Wait. Wouldn't it be cool if…" and great ideas can come from that. Songs continue to evolve sometimes even after being recorded! So they just become "Live" versions?"
When creating this track what vibe were you working to attain both in the sound and the video creation?
"Although we weren't going for any sound, in particular, we did want something a little more bouncy and straight forward. We try not to have any two songs sound the same while having our feet planted in our main core sound. We don't want to be boring to watch or listen to, while also not being completely all over the place."
Any challenges you found along the way? How did you meet them?
"This actually leads to the second part of the last question. We originally planned on shooting a music video and were in talks with a company out of New Orleans to shoot it. Due to COVID restrictions at the time (this was back in April 2020) we decided to go ahead and commission a lyric video. While not the path we originally wanted to take, we are very happy with the end product. They did a great job with the lyric video."
How do you describe your music to people who never heard it before?
"Without name-dropping bands, we are influenced by…also, these are really good questions! You could say we are a heavier than rock band…maybe alt-metal? Melodic but heavy, and we really try to highlight songwriting over a particular style. We have vast influences between us and they are certainly present in our music. We try to write well-crafted songs but just can't deny the heavy in our hearts. Dad Rock. We're Dad Rock, I don't even know why we're even trying to skirt around it, hahaha!"
Finish the sentence: Pardon the Scar's music is the music created for metalheads that secretly belt out bubblegum pop in their cars.
What is Pardon the Scars looking forward to in 2021? When can we expect more music?
"We are currently tracking a batch of songs and plan on rolling them out soon! Possibly as a string of Singles, possibly an EP, we are still debating at this point. Nonetheless, we are writing and recording as we speak."
When touring begins again, any bands you would like to hit the road with?
"We have several handfuls of local and regional acts, friends we can't wait to get BACK on stage with, that's for sure. As far as bigger acts, oh man, that's likely a list just as long. Is Nothing More looking for road support? I heard a rumor that they were. No?"
Pardon The Scars hits the melodic aggressive sound of rock as they cut through the wire with their single "Caged Inside". Their signature sound is undeniably a blend of 90's metal spun together with progressive modern motion. "Caged Inside" seeks to break through the barriers and markedly strikes the identity of what Pardon The Scars is unleashing. Having recently joined forces with TLG Entertainment/INgrooves, you can hear and feel what Pardon The Scars' single "Caged Inside" is bringing to the world of rock n roll power.
Download "Caged Inside"
Here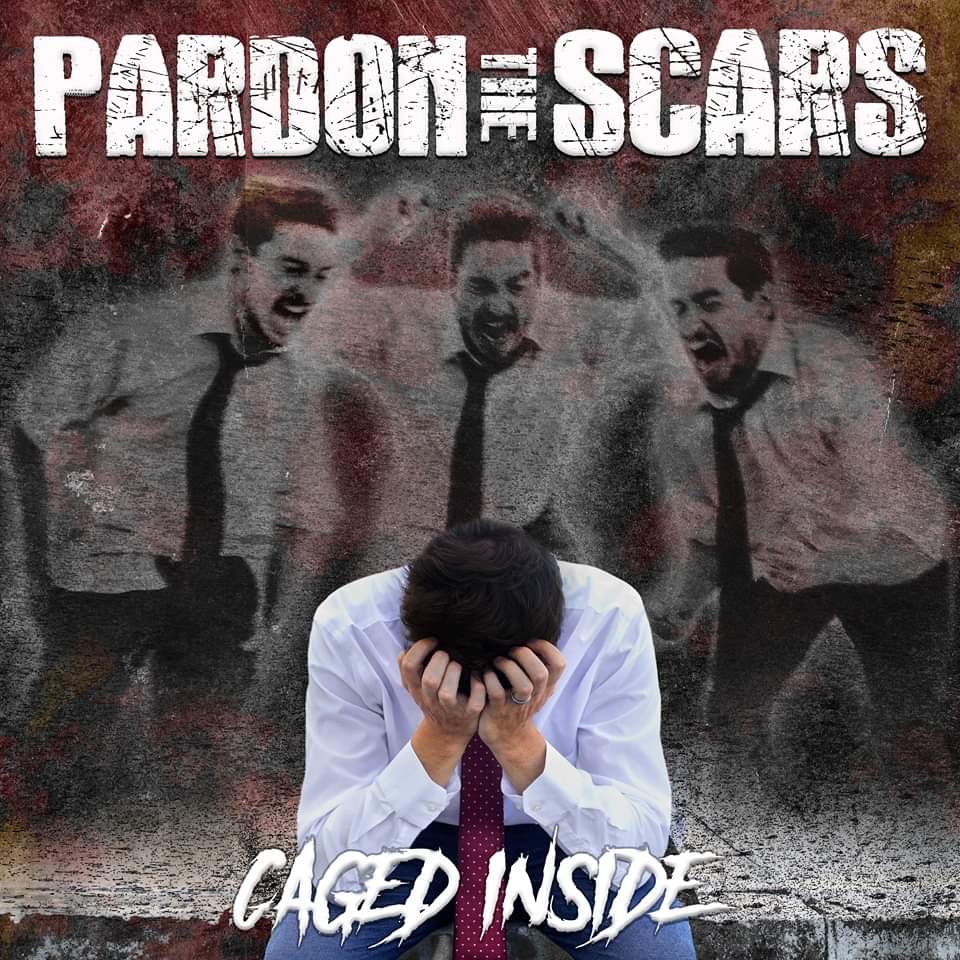 Hailing from the Florida panhandle, Pardon The Scars deliver a tapestry of melodic, aggressive hard rock with infectious melodies and arrangements. Their sonic signature is a blend of alternative, progressive and Nu-Metal, seamlessly interwoven with their modern hard rock attack. Pardon the Scars puts every ounce of themselves into not only their songwriting but for their live performance as well. Such dedication to their craft is evidence that pain can transcend into something more – a perfectly imperfect hard rock band known as Pardon The Scars.
Members:
James Tangman-Lead Vocals/ Guitar
Brian Bauman- Guitar/ Backing Vocals
Steven Godbey- Bass
Bryan Norris- Drums