Video Premiere: Gears – Game
Sofa King Cool and Gears have teamed up to premiere the video for their next single "Game"
We all have our own definition of success and for some of us, that is being able to make a comfortable living doing what it is we love. The trick to that goal, however, when it comes to the music industry is playing the GAME. Knowing what moves to make and when to make them.

I have to say that one of the most challenging things I have ever set out to do has been to make it big in this industry. So many amazing bands try, yet few survive. GEARS has endured and in a short amount of time, has accomplished a lot. The most important thing is making an impact in our FAMZ lives.
The stage is when I feel most alive. Everything about it, from the creation of the music, looking out from behind the mic, and seeing our fans singing along to our songs. All the way through after the show and hearing the impact our music has made in their life. How it's even saved a few.
While I am not sure if we will make it big in this industry, I can certainly say this: just seeing and knowing that our music makes you happy and gives you hope is what it is about. That IS success and for that reason alone, we keep playing and because of you, we stay winning.
Tripp
Sofa King Cool caught up with Jimmy from Gears and we talked about the new single "Game" changes in the music industry and touring since the pandemic hit, how the band keeps pushing through with everything going on, and what is next for them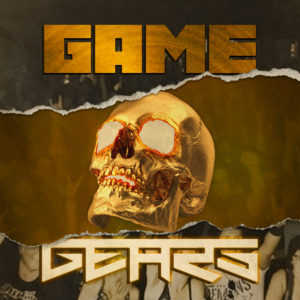 Sofa King Cool caught up with Gears to talk about their new single Game
Tell us about this latest single "Game" what made you come up with the idea for the song?
Jimmy: The basic idea behind "Game" to me was a reflection on what we've accomplished, what we still have yet to accomplish, and what we are striving for.
Does the song have any personal meaning to you or was it something in an observation you wanted to get across to your fans?
Jimmy: Just that the people who listen to the songs, come out to the shows, buy the Merch mean so much to us and we are glad to have them as part of our journey.
When some semblance of normalcy returns, overall how do you think that is going to look for the band? Will it be as it was pre covid or do you feel there might be some changes in approaching music for yourselves moving forward?
Jimmy: I'm not really sure. I certainly hope that it's even better than pre-COVID. I know there's a ton of people out there that haven't had the release of attending a real live show in over a year. I think there will be subtle differences for a little while, but GEARS is still making music and we sure as hell are gonna get out and hit the road at some point.
How soon do you think the band will be able to get back into performing on stage and possibly festivals and touring?
Jimmy: We're playing Central Florida Metal Fest in August, then maybe some stuff in the fall.
How would you describe your music to people who never heard it before?
Jimmy: Man, I hate this question. I'd rather them just check it out and tell me what they think. Haha
Finish the sentence: Gear's music is the music created for the __________________________.
Jimmy: … Anyone. We draw from a ton of influences and I think there's a little something for everyone to dig.
Any plans for performing or more music in 2021 we can expect?
Jimmy: Absolutely. We have a ton of new material we will be releasing over the next few months and we're doing our best to get out on the road as soon as it makes sense to do so!
GEARS is a heavy and hard-hitting rock band from Miami, FL. Founded in 2014, the band has had its share of adversity and always seems to overcome, building on the foundation of the challenges before. Drawing influences from Prince and David Bowie to Deftones and everything in between, they strive to achieve a balance between solid songwriting and musicianship to an overwhelmingly energetic stage show.
Since 2014, GEARS has released 2 EPs, Set in Motion and Pride Comes Before the Fall as well as numerous single releases. Of note and radio success, Their first single "Burning Both Ends Out," their sarcastic attack on the social media culture "Face Down," and their assault on the media and its divisive manipulations "End This." They've also had the unique opportunity to collaborate with Corey Glover (Living Colour) on a reimagining of the multi-platinum classic, "Cult of Personality."
GEARS is no stranger to the road. They have toured extensively with the likes of All That Remains, Upon a Burning Body, Seasons After, Bridge to Grace, The Bunny The Bear, and many others as well as their own headline dates. With all tour plans being postponed indefinitely due to COVID-19, the band looks forward to the days where they can hopefully return to their home on the road to connect with their fans in 2021.
Band Members -Trip Six, Jimmy Wooten, Josh Routt, Max Carrillo
Social Media:
GEARS Insta: @gearsbandofficial