Paul Stanley selling guitars that he plays on stage during 'End Of The Road World Tour' for up to $18,500
Paul Stanley selling guitars that he plays on stage during 'End Of The Road World Tour' for up to $18,500
KISS bassist Gene Simmons may have received some flack for his pricey The Vault box set, which cost ranged from $2,000 to $50,000 US depending what type of delivery that you received from Simmons but now his long-time bandmate Paul Stanley is looking to make a "little more" money by selling guitars that he uses on stage during KISS' farewell End of the Road World Tour in 2019.
Guitar prices range from $3,500 for a "Stage Played 6-String Acoustic Guitar" that Stanley will play on the upcoming KISS Kruise IX to $18,500 for a "Gold Cracked Mirror Tour Exclusive Stage Played Guitar" in Australia, Europe, America or the KISS Kruise IX. The guitar price does not include a "stage-used guitar strap" that costs an extra $2,500. Stanley is also selling stage used microphones for the upcoming KISS tour for $4,000 per microphone.
Stanley's website states:
https://paulstanleyguitars.com/
Own a piece of rock history!
Add the most collectible KISS guitar of all to your collection…
the one Paul played for you live on stage during KISS' final tour…
broke for you live on stage…
or autographed and presented to you personally!
"Want a stage played or smashed guitar put in your hands personally by me?
Supply is limited. Reserve yours now and meet me backstage!"
You have a once in a lifetime opportunity to buy an exclusive collectible & meet Paul Stanley!
Paul Stanley Ibanez guitar + meet and greet
Ibanez guitar SMASHED onstage in your honor
Stage-Played Ibanez played for one song during the concert YOU attend!
Or, own Paul Stanley's stage used microphone!

We do offer payment plans.  
Questions? Feel free to email info@paulstanleyguitars.com
or call Keith Leroux at 317-450-5796. 
Weapons of Choice: Paul's Personal Guitars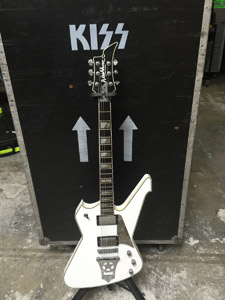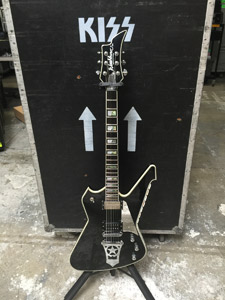 Have you ever dreamed of owning one of the most prestigious guitars in Paul's collection? These are Paul's own personal stage-played, touring guitars. Each guitar was used extensively on tour and played at numerous KISS shows around the United States and around the world. Learn more here!