19 Confirmed People Dead 50 injured at Ariana Grande Concert From Nail Bomb Confirmed Act Of Terrorism
Update Police are now treating this as a terrorist act. There are reports the explosive device was a "nail bomb" … which explains the images of victims, several bleeding profusely on the scene.
The explosion after the Ariana Grande concert Monday night is now being treated as a terroristic act and at least 19 people are confirmed dead.
As we reported an explosion tore apart a portion of the rotunda outside the seating area at the Manchester Arena.  There are reports the explosive device was a nail bomb in a backpack and it might have been a suicide mission.
Police say, in addition to the 19 dead, 50 people were injured.  Body parts were apparently strewn throughout the blast site.
Ariana had just finished performing and had left the stage.  She was not hurt.
The explosion triggered a stampede in the arena, injuring a number of people.
TMZ
Video Below Shows Nail Bomb Victim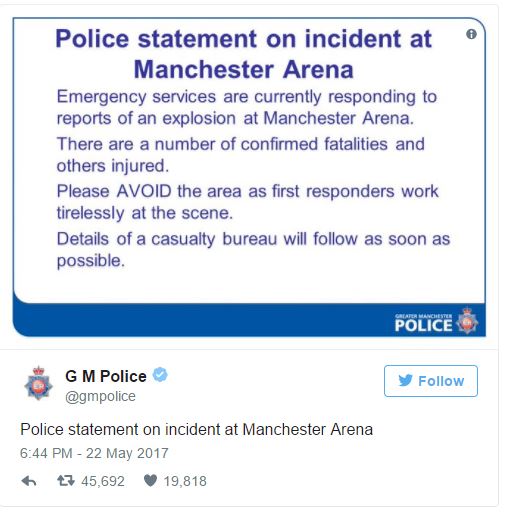 Video Below Shows dashcam video of explosion and crowds fleeing scene
At least one explosion at a concert given by singer Ariana Grande sent terrified fans running for the exits Monday in Manchester in the United Kingdom, according to Variety and various other media organizations
Grande herself appears to be uninjured. It's unclear if concert-goers or staff at the event were injured.
Greater Manchester Police said via Twitter that they were responding to the scene of a "serious incident" at Manchester Arena and asked members of the public to avoid the area.
A Grande label rep told Variety that there were two loud bangs at the concert venue.
Emergency services were rushing to the scene, according to the Mirror.
At least 10 police cars and five ambulances were seen rushing to the scene, the Mirror reported.
Tmz Greater Manchester Police say there are a "number of confirmed fatalities and others injured."
This is a developing story.