Listen to Tommy Lee 911 Call After Son Knocked Him Out
Tommy Lee's fiancee, Brittany Furlan, freaked out after he got knocked out by his son, Brandon, because Brandon had guns in his room.
TMZ's obtained audio from the 911 call Tommy's fiancee made Monday after Tommy and Brandon got into a fight … that ended with Tommy knocked out unconscious and bleeding after his son allegedly sucker punched him.
In the call you can hear Brittany tell the emergency dispatcher that she locked the door after the altercation because "my stepson has guns in his room." She eventually told the dispatcher to cancel the paramedics en route after Tommy regained consciousness, but they still insisted on coming.
We broke the story … Brandon took offense to Tommy posting funny pictures of his mom, Pamela, on social media. Brandon texted Tommy to take them down. He shot back and that escalated the fight.
Tommy Lee's son lost control and barged into Tommy's bedroom, challenged him to fight, and then knocked him out cold — so violently his fiancee thought he was dead … TMZ has learned.
Sources close to Tommy tell us … Brandon went nuts after his dad posted a few pictures of his mom, Pamela Anderson, making funny faces, because he felt it disrespected her. We're told he texted his dad — who was in bed with his fiancee, Brittany Furlan — from another room telling him to take the pics down.
We're told Tommy shot back at Brandon, asking him why's he's upset by this but not upset that Pam accused him of abuse.
At this point, our Tommy sources say Brandon burst into the room, yelling at his dad, and challenged him to a fight, but Tommy refused and told him to get out. We're told when he got up and went to the door to make Brandon leave … Brandon sucker punched him, knocking him out cold.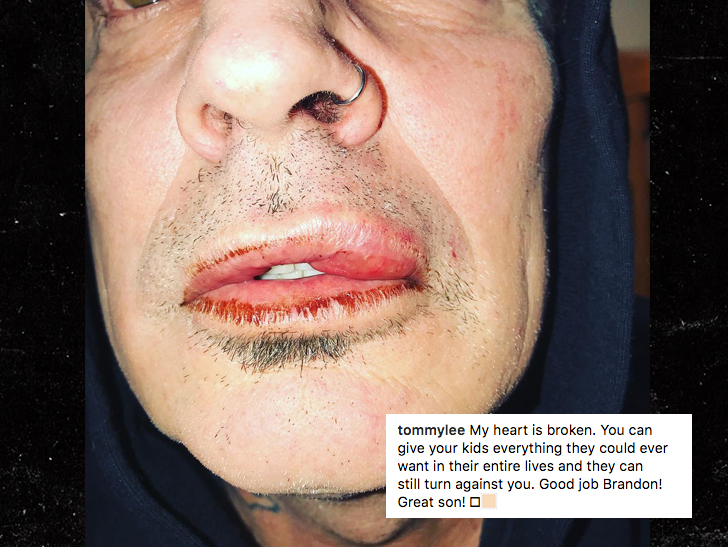 Our sources say Tommy was unconscious for several minutes and had blood coming out of his mouth, and his fiancee actually thought he was dead. We're told after the knockout, Brandon pulled out his phone and began filming before Brittany called the cops.
As we reported … a source connected to Brandon claims Tommy was drunk, but we're told he only had a glass of wine at dinner.
Brandon says Tommy came after him aggressively and he punched him in self-defense.
We're told the medics who took Tommy said he suffered a concussion.
Tommy filed a police report against Brandon and cops are investigating.
Police confirm with TMZ when they took the initial crime report they were told Brandon and Tommy Lee were arguing over a social media post. They say as of now Tommy has not backed down … he's pressing charges against Brandon. The police report does not mention alcohol.
Tommy Lee's son, Brandon, is being investigated for criminal battery after his dad filed a police report, but we've learned Brandon is saying his dad lunged at him after he called Tommy out for attacking his mom, Pam Anderson.
Family sources tell TMZ, Brandon has been living part-time with Tommy Lee — Brandon says because he's trying to help his dad overcome alcohol issues. The sources say Brandon and Tommy Lee got into a heated argument Monday night because of Tommy Lee's post attacking Pam for talking about their relationship with Piers Morgan.
Tommy tweeted, "Think she'd find something new to discuss instead of rehashing old s*** but I guess she has nothing else going on & needs attention. Signed, 'The Abuser' (who she texts everyday & asks for me back)."
The sources say Brandon claims Tommy was drunk and lunged at him and he punched his dad in self-defense. The sources add Brandon doesn't drink at all and wants to get his dad sober.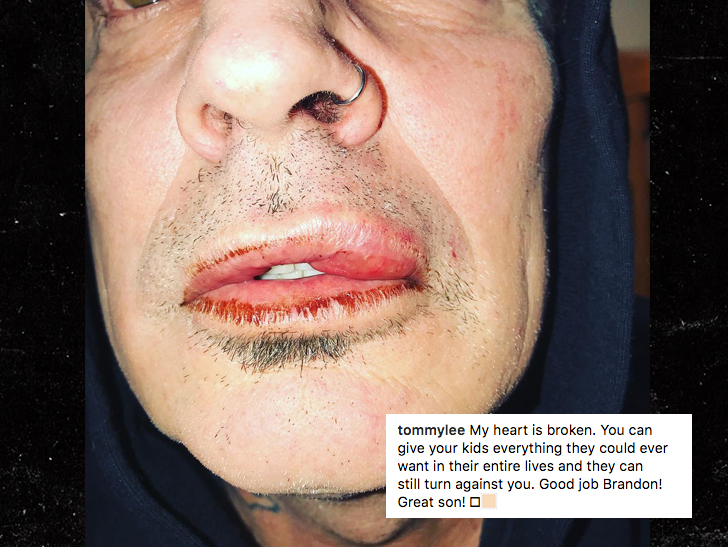 Tommy posted Tuesday night a different version, saying, "My fiance and I were in bed when my son busted into the room and assaulted me. I asked him to leave the house and he knocked me unconscious. He ran away from the police. THAT'S the truth."