Former Hollywood Undead Member Deuce Arrested for Assaulting A Police Officer
Aron Erlichman  aka Deuce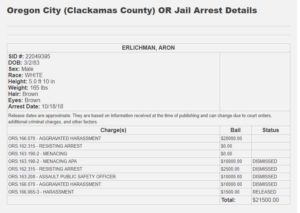 was arrested on
Thursday, October 18th 2018 and booked into Clackamas County Jail in Clackamas, Oregon.
The male arrested was listed as having a date of birth of 3/2/83 and was arrested for suspicion of the below crimes:
Bail has been set to 24000 for Erlichman which is listed as a 5.0 ft 10 in white male weighing approximately 165 lbs.
Aron Erlichman is presumed innocent until proven guilty.