Cream Bassist Jack Bruce Dead at 71 via Rolling Stone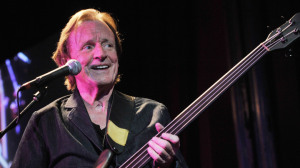 Jack Bruce performs at B.B. King Blues Club & Grill on August 10, 2010 in New York City.
Rock and Roll Hall of Fame bassist "died today at his home in Suffolk surrounded by his family," his publicist confirms
|
Jack Bruce, the singer and bassist for Rock and Roll Hall of Fame band Cream, has passed away, his family confirmed the musician's passing on his Facebook page. He was 71.
As one-third of one of rock's greatest trios, along with guitarist Eric Clapton and drummer Ginger Baker, Bruce was the voice and songwriter behind classic tracks like "White Room," "SWLABR," and "Sunshine of Your Love," which Bruce co-wrote with Clapton. Considered to be the first rock "supergroup," Cream pumped out four studio albums in three years – three of which landed on Rolling Stone's 500 Greatest Albums of All Time – before going their separate ways.
The band reunited briefly in 1993 for their Rock Hall induction, then again in for a triumphant series of 2005 concerts at London's Royal Albert Hall and New York's Madison Square Garden. In 2006, Bruce and his Cream mates received the Grammy Lifetime Achievement Award. Bruce also occasionally served as a member of Ringo Starr's All-Starr Band and collaborated on the title track of Frank Zappa's Apostrophe.
Following Cream's breakup in 1968, Bruce kickstarted a long solo career with 1969's Songs of a Tailor. He would release over a dozen solo LPs over the next 45 years, including his latest album titled Silver Rails in March 2014. "I quite like to just enjoy my life. I'm thrilled to make this album. I put my heart and soul into it, and I'm very pleased with the way it came out," Bruce told Rolling Stone of his new album in April.
Cream also landed on Rolling Stone's list of the 100 Greatest Artists, and in an ode to the trio written by Roger Waters, the Pink Floyd bassist writes, "Then there's Jack Bruce — probably the most musically gifted bass player who's ever been."
photo: Bobby Bank/Getty Images
Read more: http://www.rollingstone.com/music/news/cream-bassist-jack-bruce-dead-at-71-20141025#ixzz3HButRJJD