Alt Buffalo Announce Kerfuffle 2015 Line Up, Get To Know The Bands Here
Cake (stylized CAKE) is an American alternative rock band from Sacramento, California. Consisting of singer John McCrea, trumpeter Vince DiFiore, guitarist Xan McCurdy, bassist Gabe Nelson and drummer Paulo Baldi, the band has been noted for McCrea's sarcastic lyrics and deadpan voice, DiFiore's trumpet parts, and their wide-ranging musical influences, including country music, Mariachi, rock, funk, Iranian folk music and hip hop.
Cake was formed in 1991 by McCrea, DiFiore, Greg Brown, Frank French and Shon Meckfessel, who soon left and was replaced by Nelson. Following the self-release of its debut album, Motorcade of Generosity, the band was signed to Capricorn Records in 1995 and released its first single, "Rock 'n' Roll Lifestyle", which hit number 35 on the Modern Rock Tracks music chart and was featured on MTV's 120 Minutes; French and Nelson then left the band, and were replaced by Todd Roper and Victor Damiani. Cake's second album, 1996's Fashion Nugget, went platinum on the strength of its lead single, "The Distance". Following a tour of Europe and the United States, both Brown and Damiani announced they were leaving Cake, which led to speculation about the band's future; McCrea eventually recruited Xan McCurdy to take over on guitar, and persuaded Nelson to return.
Prolonging the Magic, the band's third album, was released in 1998 and went platinum, having shipped over one million units; this was followed three years later by Comfort Eagle, the band's first album on Columbia Records, featuring the single "Short Skirt/Long Jacket" which hit number 7 on the Modern Rock Tracks chart. Following a series of tours, including several versions of the Unlimited Sunshine Tour, the band released Pressure Chief in 2004, its second and last album on Columbia. After creating its own label, Upbeat Records, the band released Showroom of Compassion in 2011, which became its first album to debut at the top of the Billboard charts, selling 44,000 copies in the first week after release.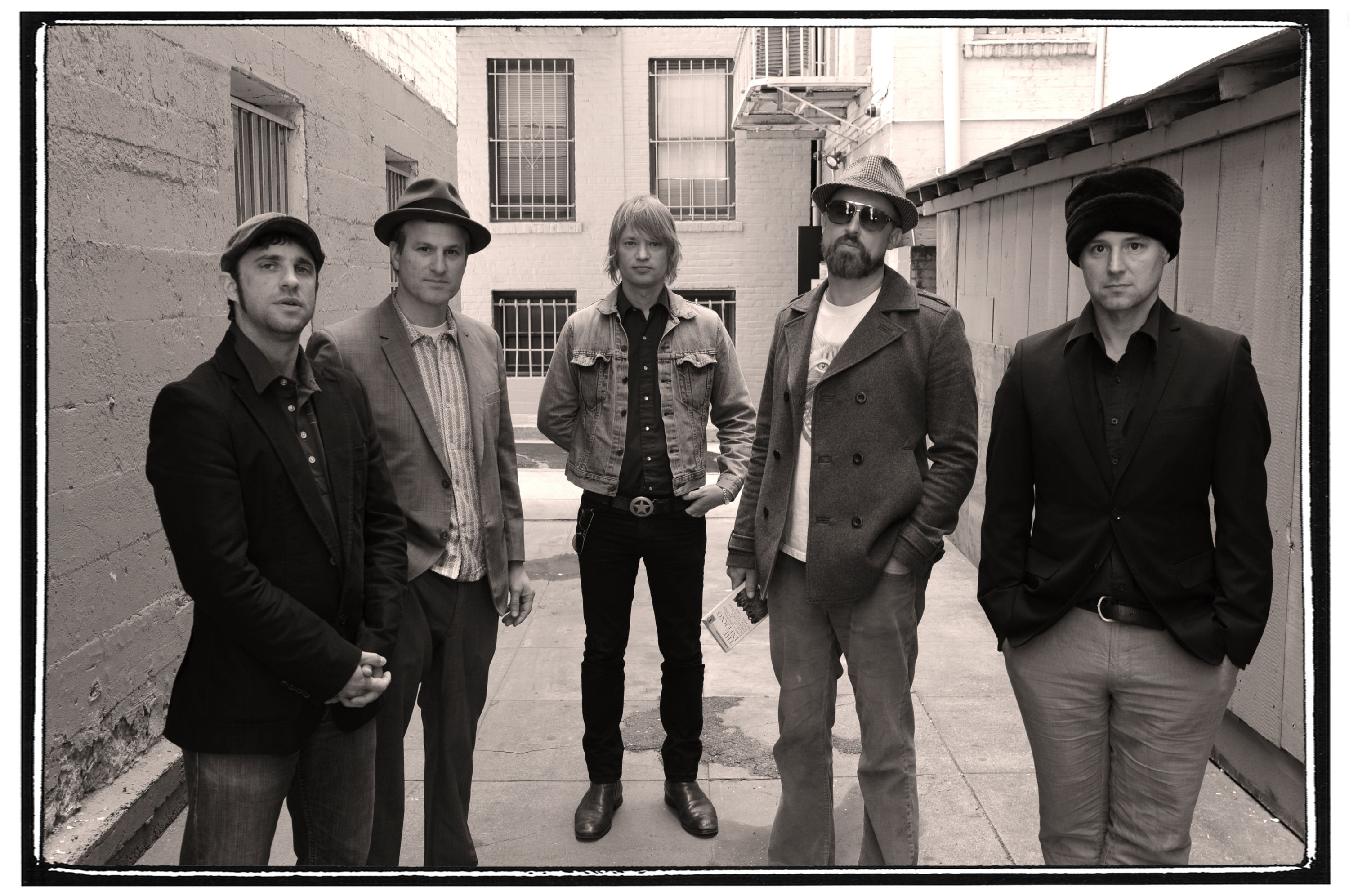 The Airborne Toxic Event is an American indie rock band from Los Feliz, Los Angeles, California. It consists of Mikel Jollett (vocals, guitar, keyboards), Steven Chen (guitar, keyboards), Adrián Rodríguez (electric bass, backing vocals), Daren Taylor (drums) and Anna Bulbrook (viola, keyboard, tambourine, backing vocals). The band released its debut self-titled album in 2008 and released its follow-up album, All at Once, on April 26, 2011.
Named after a section in Don DeLillo's novel White Noise, the group is known for its blend of rock music and orchestral arrangements, having performed frequently with the Calder Quartet, a string quartet based in Los Angeles. The group has also played concerts with the Louisville Orchestra and the Colorado Symphony Orchestra.
http://www.theairbornetoxicevent.com/
Civil Twilight is a South African four-piece rock band from Cape Town, South Africa, consisting of the brothers Andrew and Steven McKeller, plus Richard Wouters, and Kevin Dailey. They are signed to Wind-up Records, and have released two studio albums—their self-titled debut album, Civil Twilight (2010), and Holy Weather (2012). The band is set to release their third studio album, Story of an Immigrant, on 2 June 2015 via Wind-up Records
Cold War Kids is an American indie rock band from Long Beach, California. Band members are Nathan Willett (vocals, piano, guitar, keyboards, percussion), Dann Gallucci (guitar, percussion, melodica), Matt Maust (bass guitar), Joe Plummer (drums, percussion) and Matthew Schwartz (keyboards, piano, guitar, percussion, vocals). Jonnie Russell (guitar, vocals, keyboards, piano, percussion, melodica) and Matt Aveiro (drums, percussion) are both former members of the band.
Forming in 2004 in Fullerton, the band's early releases came from independent record label Monarchy Music. In 2006, Cold War Kids signed with Downtown/V2 and released their major label debut Robbers & Cowards to cult appeal from fans and critics. 2008's Loyalty to Loyalty and 2011's Mine Is Yours saw the band develop different musical sounds and lyrical content throughout to mixed reviews. In 2013, Cold War Kids released their fourth album Dear Miss Lonelyhearts. Their most recent album Hold My Home was released on October 21, 2014
The Gaslight Anthem are an American punk rock band from New Brunswick, New Jersey, formed in 2006. The band consists of Brian Fallon (lead vocals, guitar), Alex Rosamilia (guitar, backing vocals), Alex Levine (bass guitar, backing vocals), and Benny Horowitz (drums, percussion).
The Gaslight Anthem released their debut album, Sink or Swim, on XOXO Records in May 2007, and their second album, The '59 Sound, on SideOneDummy Records in August 2008. The band's third album, American Slang, was released in June 2010, and their fourth, Handwritten, was released in July 2012 through Mercury Records. The band's fifth full-length studio album, Get Hurt, was released on August 12, 2014, through Island Records.
http://www.thegaslightanthem.com/
In The Valley Below – Angela Gail and Jeffrey Jacob – meld harmony-laden folk-country Americana, adventurous art rock, squelchy synth pop and woozy blues into something altogether different: stylistically elusive, yet oddly inclusive. Her loaded purr cajoling his weathered inflections, they craft gauzily compelling music at once introverted and all-embracing.
Seldom has a debut single seduced so many, for so long. Two years since its release, In The Valley Below's "Peaches", which was first picked up by European alternative radio, continues as an international airwaves staple – testament to the enduring viral power of its sunny yet smoldering songcraft and celebratory surrender to mutual attraction.
The Mowgli's  are an American alternative rock band from southern California. They are named after a former band member's dog Mowgli, itself named after a character from Rudyard Kipling's novel The Jungle Book. Four of the members are from the Calabasas area of Northern Los Angeles. Singer Colin Dieden is from Kansas City, Guitarist/Singer Josh Hogan is from Oklahoma City and Guitarist Spencer Trent is from Nashville. Their song "San Francisco" reached number 11 on Billboard's alternative chart in 2013
New Politics is a Danish alternative rock band from Copenhagen, formed in 2009. It currently consists of David Boyd, Søren Hansen, and Louis Vecchio. The band's sound has been described as a blend of "punk, pop, and electronically induced dance rock". They have released two albums: New Politics in 2010 and A Bad Girl in Harlem in 2013 and are best known for their singles "Yeah Yeah Yeah" and "Harlem."
Saint Motel is an American progressive pop band from Los Angeles, whose music has been described as everything from "dream pop" to "indie prog". The band consists of A/J Jackson (lead vocals/guitar), Aaron Sharp aka "a sharp" (lead guitar), Dak (bass), and Greg Erwin (drums}
SATURDAY JULY 25TH 2015
@ CANALSIDE
GATES 1:30PM//SHOW STARTS AT 1:45PM
AN ALL AGES EVENT
$30 – General Admission
$45 – Premium View
$150 – #AltFamily V.I.P.
#AltFamily VIP Experience includes:
– Access into EXCLUSIVE VIP area
– Meet and Greet with 1 Act of your choice/Small group picture
– Official Kerfuffle 2015 T-Shirt
– Kerfuffle 2015 Limited Edition 24"x18" Poster
– VIP Laminate
– Pizza & Pop
– Early Entry to Venue, Early Access to premium viewing area
Subject to change: ALL #AltFamily V.I.P. items will be distributed day of show at Canalside starting at 12:30pm. Meet & Greets DO NOT include autograph.  NO pictures to be taken with ticket holders personal camera or cell phone (no selfies) ALL Photos will be taken by professional photographer and posted on station Facebook page within 24 hours.  Large format, High Quality photos will be available within 1 week of the show, and will be emailed to ticket holder upon request. Final VIP Experience details will be finalized 1-2 weeks before the show. **We will contact you via phone/email.
TICKETS GO ON SALE THIS FRIDAY (4/10) @ 10AM!
Canalside Buffalo
44 Prime Street,
Buffalo, NY 14202